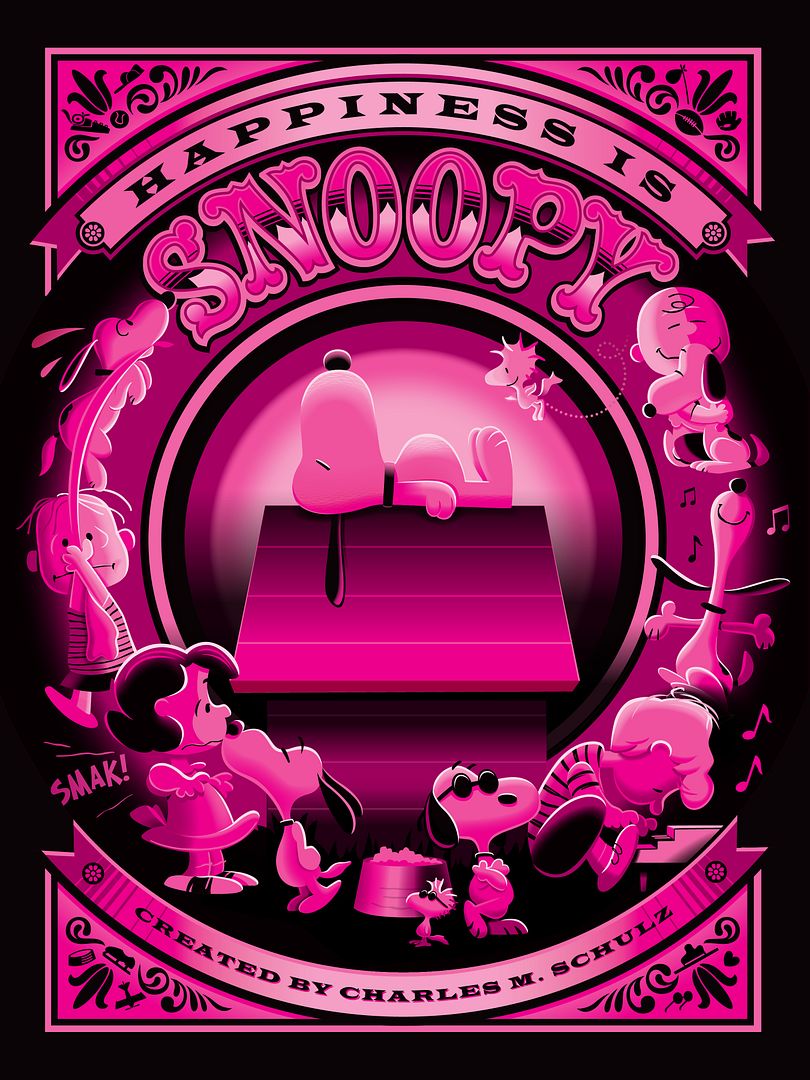 Dark Hall Mansion, www.DarkHallMansion.com, has so been looking forward to finally debuting artist Jeff Granito's amazing "HAPPINESS IS SNOOPY" official Peanuts limited edition print release available Tuesday, April 11th, at 12:30 PM-PST!
This very special edition is being deliberately released immediately after our Dave Perillo "PEANUTS: THROUGH THE YEARS" sale so Perillo buyers might be able to purchase and add Jeff's "HAPPINESS IS SNOOPY" prints and so combine for only one shipping fee. This offer is of course applicable to any buyer newly purchasing Jeff's edition and wishing to also add Dave Perillo's print. Just check out on purchasing either Jeff's "HAPPINESS IS SNOOPY" print or Dave Perillo's "PEANUTS: THROUGH THE YEARS" 
then drop us a quick note after at: info@darkhallmansion.com with your order number for either and we'll refund the redundant shipping so there's only one fee no matter how many prints purchased! Please remember to send us an email with your other order number in order for us to combine your purchases and refund any redundant shipping.
As all Jeff Granito fans know, particularly from his extensive work with Disney, Jeff's bold linework and intense use of color are hallmarks of his style and aesthetic approach yet even we weren't ready for the lush, rich composition he turned in! Everyone rather halted, mouths open with a collective "WOW" on seeing his final piece. We absolutely loved it!! The
tight composition, the classic yet contemporary rendering, the charm of Snoopy's arcing storyline touching on varied classic moments that so
inform and define Snoopy's singular personality, and of course, Jeff's echoing of the classic Charles M. Schulz book that's now 50+ years
old and still bringing joy to new generations.
Observant Peanuts fans will also recognize Jeff's inclusion of Snoopy elements within the print's corners referencing classic Snoopy moments from both the Peanuts films and Schulz strips as well. The typewriter that
so famously clacks out Snoopy's "It Was a Dark and Stormy Night," ice skates from his flawless pond cruising, gear from his ease with all sports, and of course, his Joe Cool glasses. Which brings us to Jeff's beautiful
and stunning Variant Joe Cool blue and pink editions which include a
special alternate rendition of Jeff's main artwork to showcase the coolest beagle to ever rock a pair of shades, Snoopy and his feathered friend, Woodstock, are pure laid back attitude. In a gorgeous deep jazz blue or
hot pink, you decide which version you most like because we couldn't!
Please also view Jeff Granito's "HAPPINESS IS SNOOPY" limited edition prints on DHM's Instagram:
 https://www.instagram.com/darkhallmansion
or on our Facebook page at: 
https://www.facebook.com/pages/Dark-Hall-Mansion/212394752134162 
"HAPPINESS IS SNOOPY" limited edition Jeff Granito prints go on sale Tuesday, April 11th, on DHM's dedicated store page:
http://darkhallmansionstore.com 
at 12:30 PM-PST!
"HAPPINESS IS SNOOPY"
Standard edition of 280 $55
"HAPPINESS IS SNOOPY"
Variant Joe Cool Blue edition of 50  $65
"HAPPINESS IS SNOOPY"
Variant Joe Cool Pink edition of 50  $65
© 2017 Peanuts Worldwide, LLC
"HAPPINESS IS SNOOPY" limited edition prints measure 18″ x 24″ with all editions being strictly limited, giclee printed and hand numbered. And YES we combine orders and shipping for anyone purchasing multiple or varied prints from these or our other artist offerings in DHM's store.
*In fairness to all collectors wishing to purchase DHM's official Jeff Granito
"HAPPINESS IS SNOOPY" limited edition prints: Please understand all sales are final.
Dark Hall Mansion is a labor of love. We are passionate about art, about the work of print and poster artists present and past, here and abroad. We are committed to bringing their skills to the forefront on projects both compelling and exciting, and bridging their studios and creations directly with your walls and personal collections.
More information can be found on these and other editions available from Dark Hall Mansion at www.DarkHallMansion.com
======================