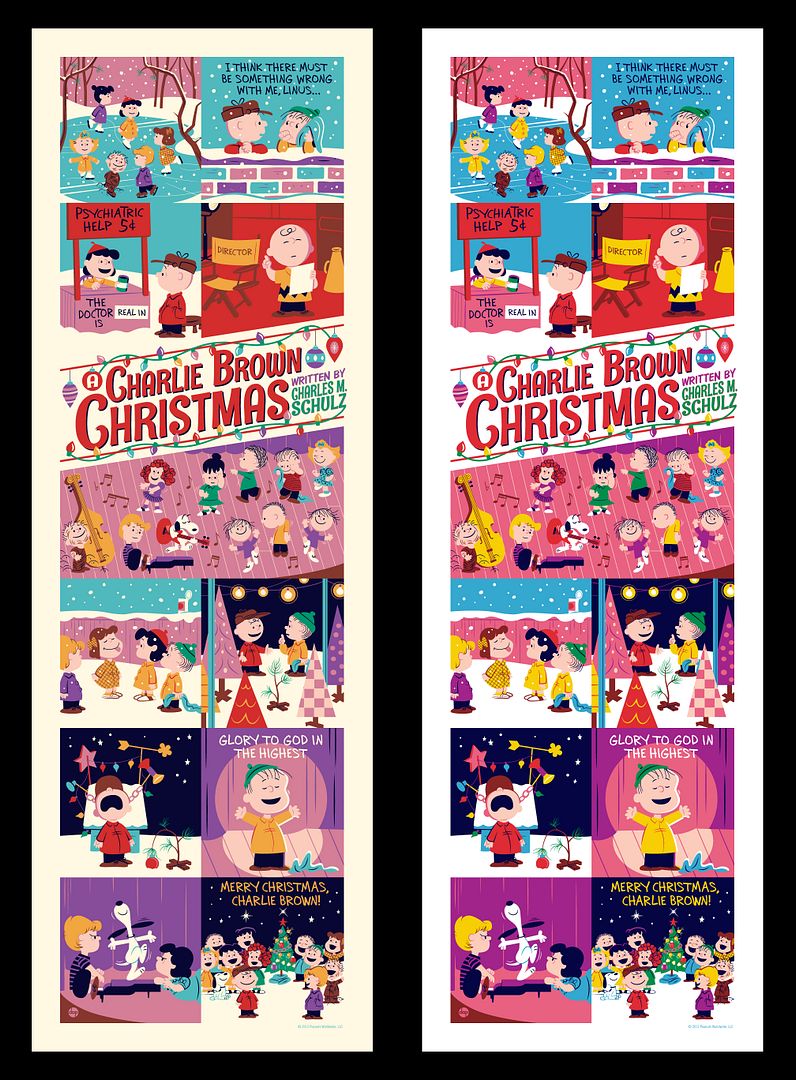 Linus: Gee, do they still make wooden Christmas trees?
Charlie: This little green one here seems to need a home.
Linus: I don't know, Charlie Brown. Remember what Lucy said? This doesn't seem to fit the modern spirit.
Charlie: I don't care. We'll decorate it and it'll be just right for our play. Besides, I think it needs me.
=============
Nov 26, 2013
And we need you Charlie, and your indomitable Christmas spirit.
Dark Hall Mansion, www.DarkHallMansion.com, is excited to share this year's officially licensed Peanuts print for Charles M. Schulz's 1965 classic that started it all, "A Charlie Brown Christmas." On sale next Tues, December 3, 2013, at a random time between 9:30 AM PST and 11:30 AM PST, we think you'll be thrilled to see many of your favorite scenes from everyone's most beloved Christmas tradition.
Dark Hall Mansion's invited artist for this year's "A Charlie Brown Christmas" is Dave Perillo and his multi-panel approach allows us to all to share a laugh, smile, or tender moment of reflection that we can all use, most of all, at this time of year. You can just hear those first quiet, beautiful notes from Vince Guaraldi's gorgeous score as you take in Dave Perillo's first panel with the Peanuts gang ever so peacefully skating and then transition right into one of the most sensitive and profound Charlie/Linus wall conversations that just about everyone with a soul can empathize with.
Charlie: Isn't there anyone who knows what Christmas is all about?
Linus: Sure, Charlie Brown, I can tell you what Christmas is all about.
And remind us he does, thank you Linus, and thank you Dave Perillo for rendering this lovely moment so touchingly.
Lucy: You need involvement. You'll need to get involved in some
real Christmas project. How would you like to be the director of our Christmas play?
Charlie: Me? You want me to be the director of the Christmas play?
Lucy: Here he comes! Attention, everyone, here's our director.
THE dance! What can we say?! FINALLY-THE DANCE!!! We've been waiting so long to finally see this scene rendered and you can just hear Vince's chord slamming as you give in to your urge to get up and try your best Peanuts Christmas dance moves! You know you want to!!
Linus: Lights, please. [a spotlight shines on Linus]
Linus: "And there were in the same country shepherds abiding in the field, keeping watch over their flock by night. And lo, the angel of the Lord came upon them, and the glory of the Lord shone round about them: and they were sore afraid. And the angel said unto them, 'Fear not: for behold, I bring unto you good tidings of great joy, which shall be to all people. For unto you is born this day in the City of David a Savior, which is Christ the Lord. And this shall be a sign unto you; Ye shall find the babe wrapped in swaddling clothes, lying in a manger.' And suddenly there was with the angel a multitude of the heavenly host, praising God, and saying, 'Glory to God in the highest, and on earth peace, good will toward men.'"
[Linus picks up his blanket and walks back towards Charlie Brown]
Linus: That's what Christmas is all about, Charlie Brown.
Thank you for reminding us what Christmas is truly all about, Linus. Charles Schulz's incomparable masterpiece touches us each year just as much, if not more, than it did when we all rushed our TVs with Zingers in hand. From Charles Schulz's brilliantly insightful words and flourishes to the humor and beauty Bill Melendez so flawlessly incorporates with spot on direction, there is only one "A Charlie Brown Christmas."
Patty: Try to catch snowflakes on your tongue. It's fun.
Linus: Mmm. Needs sugar.
Lucy: It's too early. I never eat December snowflakes. I always wait until January.
Linus: They sure look ripe to me.
Dave Perillo has done this classic justice, and capture snowflakes and moments he has. Panel to panel his artwork reminds us all just why we so love these moments, characters, friends, and "A Charlie Brown Christmas" so much-snowflake tasting, Charlie and Linus deciding on just the right little tree, Snoopy's being moved and moving to music, Linus' prayer, and the joyous close that affirms the Charlie Brown in us all that we really will be OK.
All DHM "A Charlie Brown Christmas" editions measure 12″ x 36,"
are strictly limited, numbered, and individually screen printed with Editions as follows:
Standard: "A Charlie Brown Christmas" (Edition of 280)
Variant: "A Charlie Brown Christmas" (Edition of 50)
*And a select run of just 10 of each style-Standard and Variant-printed on full 12″ x 36″ panels of wood:
"A Charlie Brown Christmas" (Standard art) Wood Edition of 10
"A Charlie Brown Christmas" (Variant art) Wood Edition of 10
Standard: $65
Variant: $100
Wood Edition: $250
All Editions go on sale next Tues, Dec 3rd, 2013 at Dark Hall Mansion:
www.DarkHallMansion.com. They'll go on sale on our dedicated Store page at a random time between 9:30 AM PST and 11:30 AM PST here: http://www.darkhallmansionstore.com/
*And know that we'll be immediately shipping out our "A Christmas Brown Christmas" editions to collectors so they can be up and enjoyed!

**Also, in fairness to our collectors who actually wish to purchase our pieces to enjoy, not just 'flip,'-ALL SALES ARE FINAL!
***A note to collectors wishing to purchase all 3 DHM Dave Perillo Holiday Charlie Brown editions: We're now SOLD OUT of 3 of the 4 different "Great Pumpkin" editions, and sure certain "A Charlie Brown Thanksgiving" editions will soon go this route as well, so with "A Charlie Brown Christmas" now upon us-usually our most in demand Charlie release-please do know that quantities are limited, pending title and edition, and so it will become progressively harder to complete all 3 titles by Dave Perillo and-Yes!-we do try and match numbers for collectors where possible if they're purchasing more than one Holiday title and desire a matched number. Just drop us a line and we'll do our best to accommodate.
Thank you as always for your continued support of DHM and our projects, we're grateful to you all, quite simply these projects don't happen without the passionate support, emails and interest we receive for our DHM releases and we're honored to have you all as DHM fans-THANK YOU!!! We look forward to seeing you all next Tuesday and thank you all once again!
But most of all, and above all else, we want to wish you all a beautiful holiday season and a most Merry Christmas, God bless.
Linus: I never thought it was such a bad little tree. It's not bad at all, really. Maybe it just needs a little love.
God bless,
DHM
Dark Hall Mansion
www.DarkHallMansion.com